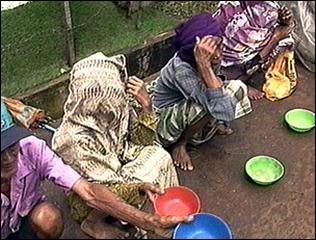 During my early grade school years, one of my best friends was Vanessa.
She happened to be an African American, but I don't recall thinking anything of that.
I enjoyed her friendship.
I played at her house after school, and I invited her to Sunday school.
Just kid's stuff.
By bringing Vanessa to church our family turned the church on its head. As my parents told me later, the leaders asked them to stop bringing her to church or find another church.
So we moved to another church!
I was too young to understand what bigotry was, and I didn't learn it at home.
My parents nurtured us in Christian love towards our neighbors, no matter their race or status.
As a teen I vividly recall the afternoon a group of angry black youths surrounded my sister and I, accusing us of killing Martin Luther King. None of those hot headed teens could read our hearts. They only reacted to our white skin. And that is the nature of bigotry of any kind - choosing responses based on unique outward distinctions rather than identifying the humanness of the heart we all share.
Many decades later our world is still grappling with various forms of bigotry. Despite intentional "diversity training," News constantly reports injurious incidents of hatred and bullying and educators are asking, "Can we teach empathy to our students?"
All cultures engender some form of bigotry whether based on tribe, nationality, gender, status, or language. Jesus came into a decisively bigoted culture, encountering barriers between Jews and Gentiles, Jews and Samaritans, religious synagogue goers and tax collectors, and the healthy and the infirm. When Jesus purposed to make the disciples into ministers of his Good News he shouldered the daunting task of breaking down the destructive barriers that could thwart them in preaching Good News to anyone anywhere.
We could all do with some wisdom from the Master Teacher who succeeded in transforming this group of rowdy bigots into ministers of the Gospel willing to compassionately cross bigotry borders. I've observed a few practices Jesus incorporated into his discipleship training to bring about this change.
Jesus intentionally ministered across bigotry boundaries. Jesus refused to honor culture-bound bigotry. He was like a bigotry hound sniffing out the smallest scent of bigotry. And then he did just the opposite of cultural practices. He touched lepers. He called a blind beggar out of the crowd for healing. He crossed the lake to meet with the demon possessed monster the whole town feared. He talked to a Samaritan slut. He healed the daughter of a Canaanite Gentile. He banqueted with despicable tax collectors. If there was a bigotry barrier he purposely crossed it!
Jesus immersed his disciples in bigotry border crossings. He walked with them among the poor, the blind, the lame, and the beggars. He strode with the disciples into the pool of Siloam where the ignored dregs of society waited for a miracle. He hiked his followers through Samaria and kept them there for two days of ministry. He and his disciples chatted over meals with despised publicans.
Jesus exposed ugly attitudes of bigotry. Ever the teacher, Jesus tackled stinking attitudes with stories. The tale of the Good Samaritan contrasted haughty religious indifference towards a robbery victim with the surprising compassion of a despised Samaritan (Lk 10). Jesus addressed the older brother's snooty self-righteousness towards his brother's self-inflicted poverty in the story of the prodigal son (Lk 15). Jesus also included teaching about judging, arrogance, and self-righteousness wherever he went.
Jesus honored those whom others "despised." Jesus ministered across bigotry borders, but he also took opportunities to honor those who were normally despised by society. The Gospels show Jesus honoring a Roman centurion, a Canaanite women, and a repentant harlot for their faith (Lk 7:9; Matt 15:28; Lk 7:50).
Can empathy be taught? Yes. My parents gave us a good start. Yes. Jesus showed us how. But the task is not for the weak. Jesus showed that we must sniff out bigotry barriers in our culture and in ourselves. Only then can we take steps to intentionally cross bigotry barriers to minister to whomever wherever Jesus sends us.
Picture from Photobucket.com